Periodic updates to virus databases and Dr.Web for Linux engine are downloaded and installed by Updater automatically. You can view status of virus databases and force a database update on a special page of the Dr.Web for Linux window. To open the page, on the Main page click Last update.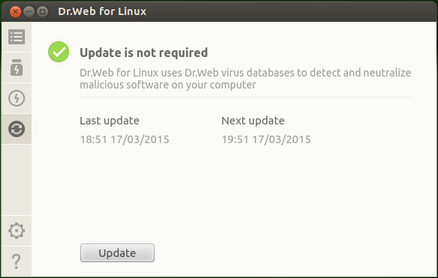 Picture 37. Update management page
The page displays the following information:
•Virus database status
•Information on the last update and time of the next scheduled update
To force a database update, click Update. To close the update management page, select another main window page by clicking a corresponding button on the navigation pane.
| | |
| --- | --- |
| | If Dr.Web for Linux is operating in Central protection mode and the central protection server disabled manual updates according to the security policy of the anti-virus network, the update management page can be blocked. |
Configuring updates
You can configure Dr.Web for Linux update settings in the Settings window, in the Main tab.
Updater issues
If Updater failure is detected, error information is displayed on the update management page. To resolve the problem, refer to Appendix D, where you can find detailed description of known errors.