SpIDer Guard is an anti-virus monitor which checks all created and modified file system objects.
On the Dr.Web for Linux main window, you can manage SpIDer Guard operation
•Start and stop file system monitoring.
•View statistics on component operation and list of detected threats.
•Configure the following operation parameters:
oReaction to detected threats
oList of exclusions
Operation Management
You can start and stop SpIDer Guard, as well as view statistics on its operation on a special page.
To open the page, on the Main page click SpIDer Guard.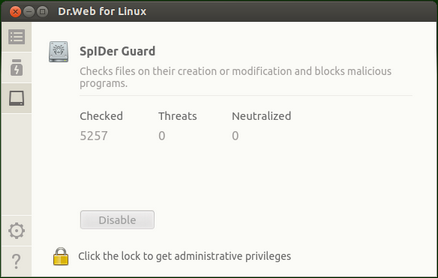 Picture 31. SpIDer Guard management page
On the monitor settings page, the following information is available:
•Status of SpIDer Guard and information on startup errors (if any)
•Statistics on SpIDer Guard operation (number of checked objects, number of detected threats, number of neutralized threats)
To enable monitoring of the file system, click Enable. To disable monitoring, click Disable.
To disable file system monitoring, the application must have elevated privileges. For details, refer to Managing Application Privileges.

If Dr.Web for Linux is operating in Central protection mode, the option to enable/disable SpIDer Guard can be blocked by the administrator and become unavailable.
Status of the file system monitor SpIDer Guard (enabled or disabled) is indicated with one of the following icons:
| | |
| --- | --- |
| | – SpIDer Guard is enabled and is protecting the file system. |
| | – SpIDer Guard is disabled by user or terminated due to an error and is not protecting the file system. |
To close the SpIDer Guard settings page, select another page of the Main window by clicking a corresponding button on the navigation pane.
The list of threats detected by SpIDer Guard in the current session of the Dr.Web for Linux GUI displays on the page with listed threats (the page is available only if at least one threat was detected).
Configuring SpIDer Guard
To configure SpIDer Guard settings, open the Settings window and click
•SpIDer Guard tab to specify reaction on detected threats
•Exclusions tab to list objects to be excluded from file system monitoring.
SpIDer Guard issues
If SpIDer Guard failure is detected, error information is displayed on the management page. To resolve the problem, refer to Appendix D, where you can find detailed description of known errors.